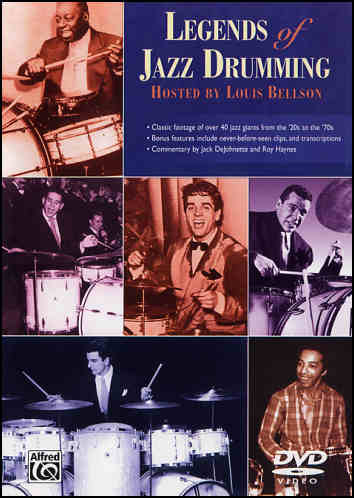 (120 min) Hosted by Louis Bellson
Part One (1920-1950) traces the history of jazz drumming in America from its earliest, pre-1920 roots to the advent of the be-bop revolution in the mid-1940s and beyond. It features archival film clips and photographs of the greats of jazz drumming, including Baby Dodds, Paul Barbarin, Chick Webb, Gene Krupa, Buddy Rich, Dave Tough, Sid Catlett, Kenny Clarke, and Max Roach.
Part Two (1950-1970) features clips and photos of Philly Joe Jones, Shelly Manne, Art Blakey, Joe Morello, Roy Haynes, Ed Thigpen, Paul Motian, Tony Williams, Steve Gadd, Billy Cobham, and others. This program illuminates a turbulent and very significant time in the history of jazz drumming. (click cover or link)
Louie first designed and built a "crude" double bass drum setup in his dad's music store in 1938. (shown here)
.