Mr. Bellson remains hospitalized while recovering from his hip-breaking fall.
(See Nov 6 News item below)
However, he has been enormously encouraged by the cheery greeting cards and the 525 entries (to-date) in the Guestbook that Mrs. B reads to him. So "Thank you!" and "Keep 'em coming!"
Guestbook).
For inquirers asking "if there's anything I can do," we repeat our Dec 5 News entry for more ways to...
Show your love for Louie Bellson
1. Direct some young person you know to this website so they can learn about a
real American Legend
. 2. Obtain Bellson's self-produced CDs for yourself/friends/family. . . . . .
The Sacred Music of Louie Bellson
(big band, symphony, choir)
. . . . .
Louie & Clark Expedition 2
(big band)
. . . Click
Gift Shop
Have these works affected you? Then let him know!!! (via Guestbook) 3. Reward yourself with Bellson drum cookies (Yum!) Click
Gift Shop
or order direct at
CookieGarden.com
.
(Use discount code LB08)
4. Then, sit back and watch the videoclips (17 selections). Click
Music/Videos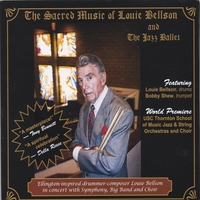 (Click an image for direct link)
_______________________________________________________________