Drum Equipment & Layout
Drum Equipment & Layout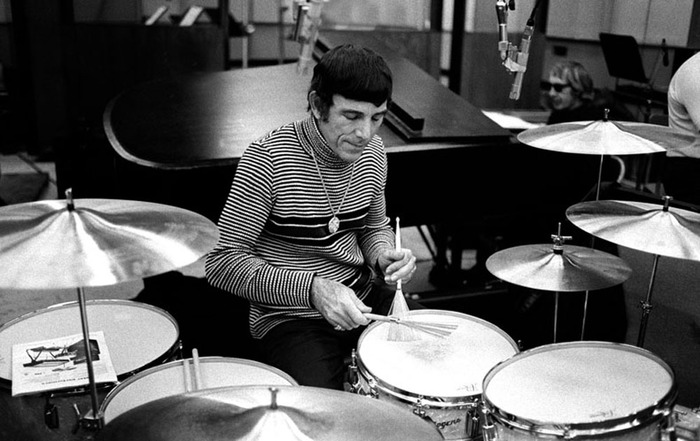 Info on drums, heads, cymbals, sticks
Drumset: Gold Crown
Heads: Coated Ambassador
Photo by Mark McCaleb, 1993
Special:
Louie Bellson Limited Edition Snare Drum
Bellson Limited Edition Snare drum is a 5 1/2 by 14-inch snare drum designed in commemoration of Louie Bellson's 75th birthday in 1999. It features Remo's Acousticon H/D drum shell with molded bearing edges, brass-plated hardware, die-cast counterhoops and Ambassador Renaissance heads along with Bellson's trademark White Pearl finish and a commemorative, serial numbered badge.
Each is personally signed by Bellson.
Cymbals & Sticks
Zildjian
Cymbals: (See layout below)
Sticks: Louie Bellson Artist Series Model Drumsticks
available at our SHOP
More Sticks & Mallets
Power Wrist Builders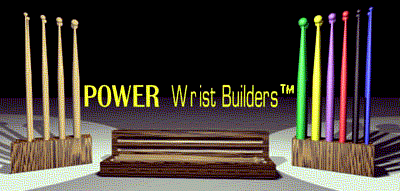 Metal Practice Sticks: Louie Bellson PWBLB-4000 Drumsticks
Mike Balter Mallets
Sticks, brushes, mallets and jingle sticks:
Louie Bellson Drumset Mallet Series
Layout
DRUM LAYOUT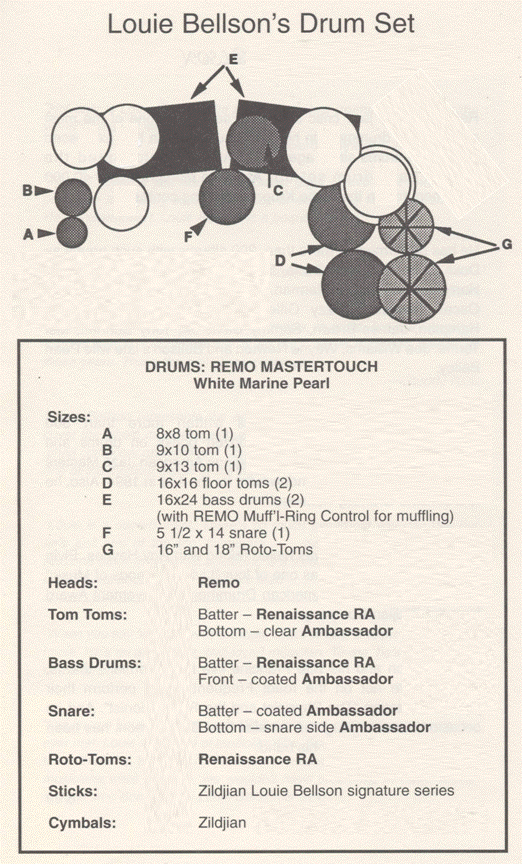 CYMBAL LAYOUT
(Left side)
18" medium thin K Zildjian crash

18" K Zildjian crash/ride w/ 2 rivets (mounted on bass drum)
21" A Zildjian Rock Ride (mounted on bass drum)

22" A Zildjian China w/ rivets

17" K Zildjian medium thin crash mounted above china on same cymbal stand.