Site-Seeing
Bellson Site-Seeing Around the World
Displays, Exhibits, Artifacts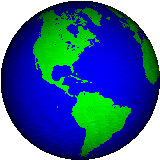 Have you visited . . . ?
Davenport, IA
Display at the "River Music Experience Center for American Roots Music," a museum of Blues, Rock-n-roll, Jazz, Gospel, etc. (Grand Opening: 6/04)
Young Bellson's photo, right next to Bix's! --→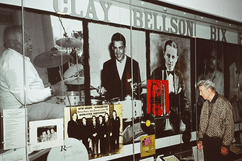 Sterling, IL
Exhibit including display of 2003 postal cancellation stamp bearing his name and image. Sterling-Rock Falls Historical Society Museum.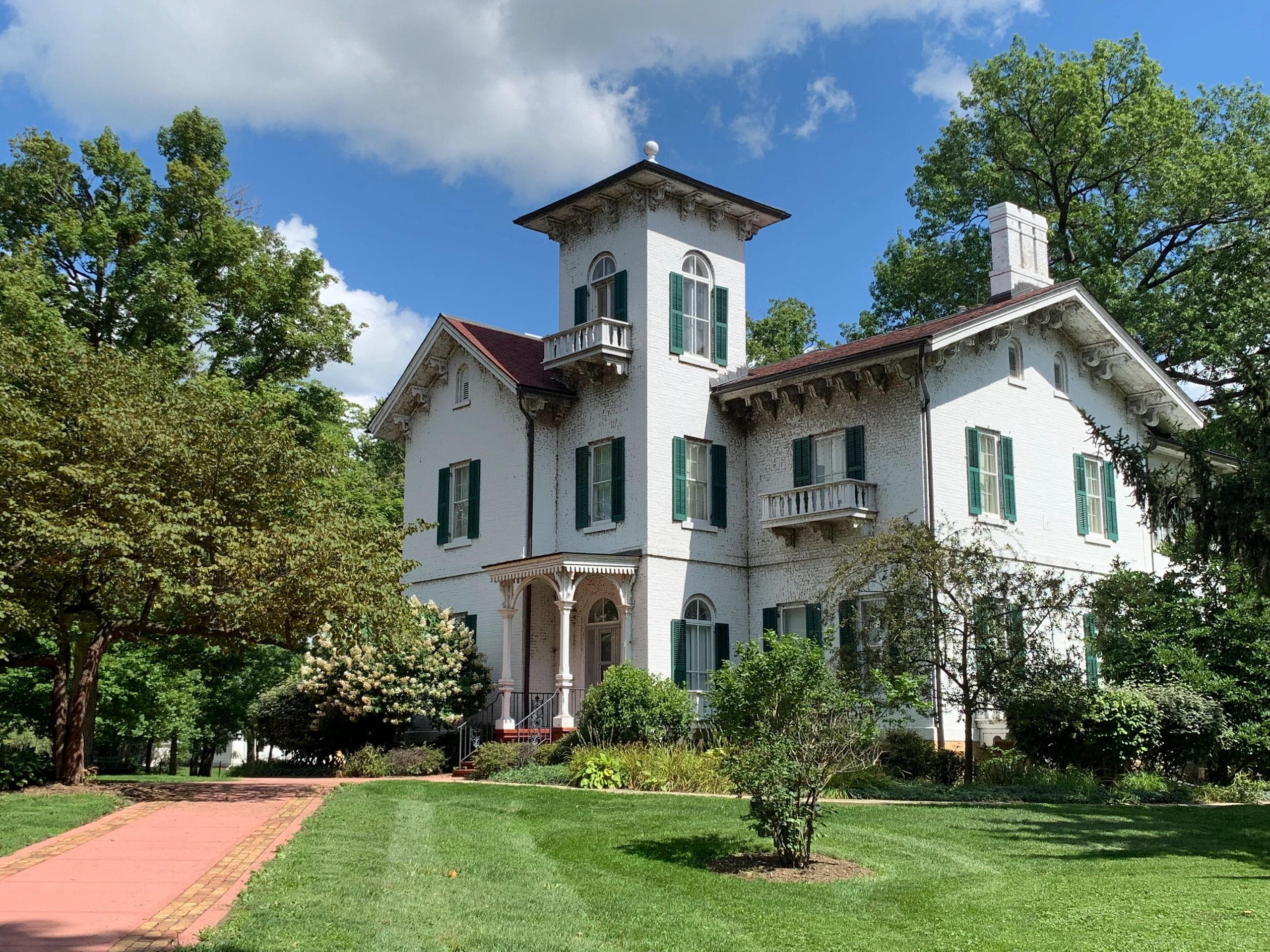 Rock Falls, IL
Historical marker installed in front of Bellson's birth house on 8th Avenue by the Rock Falls Chamber of Commerce. (2003)
<---Street signs direct visitors to site.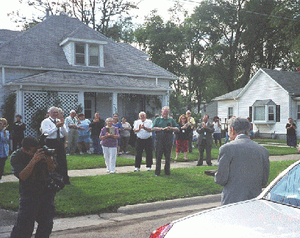 Bellson nears his birth house. --->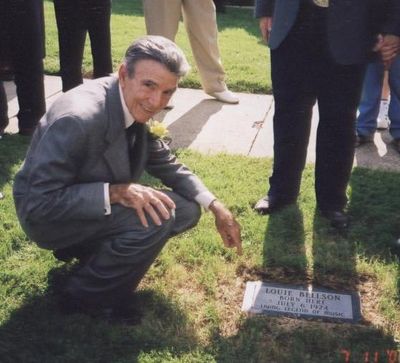 (all photos (c) F. Bellson)
Rock Falls, IL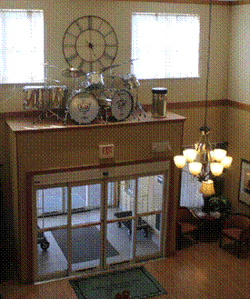 Donated by Bellson's widow, Mrs. B, one of Louie Bellson's drumsets is now on display at the Country Inn and Suites Hotel in Rock Falls, Illinois, his birth city.  Double-bass drum set-up above main entry to hotel lobby. Shown here-->
See 6/23/12 article Rock Falls not ready to forget Louie Bellson.  Watch video of 7/16/12 drum setup on YouTube.
Grand Rapids, MI
Videoclip, performing at the White House for Anwar Sadat, president of Egypt; with Pearl Bailey and Tony Bennett. Pres. Gerald R. Ford Museum.
 .
.
Norwell, MA
Display of his full double-bass drumset, including limited edition14k gold snare drum that Remo, Inc. issued for Bellson's 75th birthday in 1999. Also, extensive archival photo display in Wall of Fame. Avedis Zildjian Co.
 .
.
.
Davenport, IA
Honoree in display case, aboard the Rhythm City Casino Riverboat. Pier.  (to right of escalators)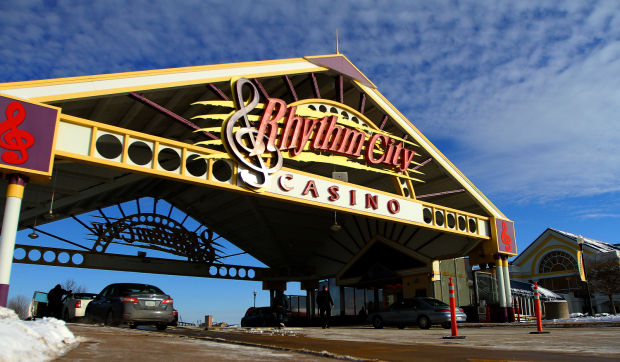 Bellson performed at Grand Opening, April 2001.
Moline, IL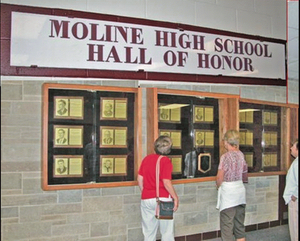 A graduate of Moline High School Class of 1942, Bellson was one of the first inductees into the MHS Alumni "Hall of Honor" in 2000.
His gold plaque shown here (bottom left) in the display case. -->
 Also, a star on the MHS "Walk of Fame".
Moline, IL
Gravesite Monument at Riverside Cemetery was designed by Mrs. Bellson in 2009.
The Dedication Ceremony (pictured here) was May 20, 2010.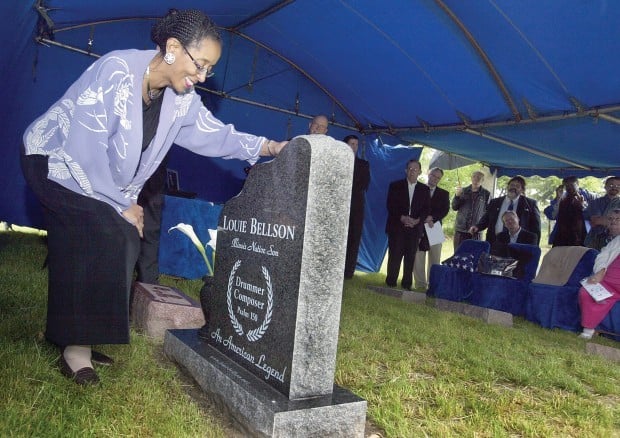 Tulsa, OK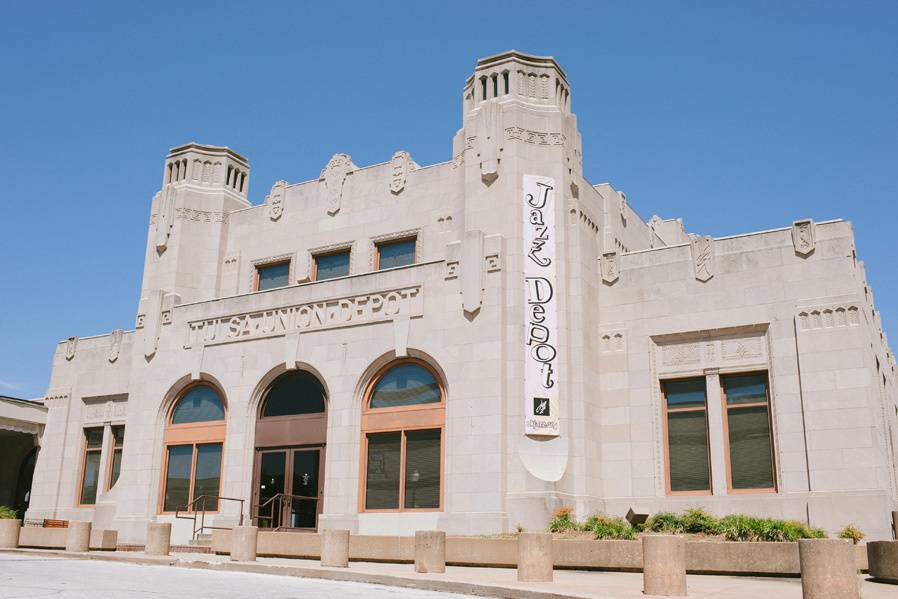 Display, 1998 Living Legend Inductee. Oklahoma Jazz Hall of Fame, Greenwood Cultural Center, 322 N. Greenwood Avenue.
Now located in the former Tulsa Union Depot in downtown Tulsa.
Rock Island, IL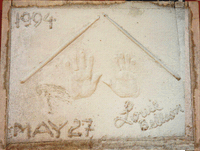 Hands & drumstick impression in cement displayed in Arts Alley, downtown Rock Island.  Bellson was in town for the Quad-Cities inaugural "Louie Bellson Jazz Fest" that weekend (May, '94)
Hollywood, CA
Hands impression in cement at the Guitar Center's RockWalk of Fame. (12/4/99)
Berne, Switzerland
</div>"></div>"></div>"></div>"></div>"></div>"></div>">
The Louie Bellson Suite hotel room decorated with extensive memorabilia provided by Mrs. B. (Other suites honor Milt Hinton, Clark Terry, Lionel Hampton, etc.) Hotel Innere Enge.
Washington, DC
Part of the Duke Ellington Exhibit at the Smithsonian Institute.
.
.
.
New York, NY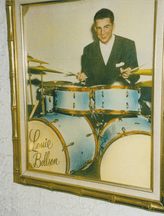 Large photo on stairway to upper balcony. The Apollo Theater, Harlem.
Los Angeles, CA
Large b&w framed photo of Bellson performing, by photographer Mrs B.  Donated to the Barbara Morrison Performing Arts Center.
Phoenix, AZ
Bellson drumset exhibit at the Musical Instruments Museum.
________________________________________________________________________
Know of other Bellson displays worthy of note? Write Mrs. B. at bellson_1@att.net.
 ___________________________________________________________________
2023 BELLSON MUSIC FEST
Five Bands + Drum Clinic by Walfredo Reyes, Jr.!
Info: Tap Rock Falls Tourism ~ Melinda Jones, director@visitrockfalls.com

Tap poster for Bellson Music Fest Page ~ or, Tap Facebook icon
Play TV Ad (15 sec)
=================================================================================